This year the Annual McDonald Lecture was given by Professor Mary Beaudry on a topic of gastronomic archaeology. Professor Mary Beaudry works at the University of Boston where she is running a Master of Liberal Arts in Gastronomy. This degree combines archaeological and anthropological study with scientific study of food stuffs and nutrition. She gave an outline of her holistic approach. After all she is a historical archaeologist/anthropologist.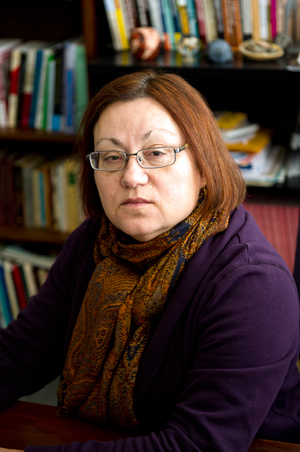 Professor Beaudry
She did not use the word, but she clearly considers a dinner party as a performance in a scene. In any case she distinguished four elements in a dinner party: a location (scene), material culture (sub-assemblage), food and people. Location does not include only the archaeological context but also bodies, ambiance and smells. People do not include only the participants, but in the case of 18th and 19th-century dinner parties also the servants/waiters/personnel. Material culture helps to create an assemblage of practice that is not only involved in use but consumption.
Spencer-Peirce-Little Farm (photo via link to Boston University)
She has excavated a series of historical homes in north-western United States in Massachusetts. She discussed in her lecture the case study of the pantry excavations at Spencer-Peirce-Little Farm in Newbury, Massachusetts, originally built around 1690. This extended building was owned by a series of not-so-successful characters during the early Independence. They wined and dined, but did not go very far. However, the totality of the evidence, including the functionally categorised china collection and their diaries with all hovering grammatical and spelling mistakes, was very compelling. They had a steady dribble of guests, family and friends, with roast piglets and veal legs on offer – the former also in evidence in the bone assemblage. These meats apparently were served with roast vegetables in a British manner.
A fitting lecture before the traditional buffet of nibbles, sandwiches and tartlets served with wine and orange juice.