After getting an offer on Phil's Victorian terraced house we have been looking at the properties and visited a series of homes locally, mainly in different local estates. Naturally, coming from abroad, my perception of normal family home is somewhat different from a normal English one since I did live in apartments all my life in Finland. A flat with a living room, a kitchen and a couple of bedrooms together with a balcony was what I and my friends called a home. Many people aspired buying a plot of land and 'building' their own homes – or purchasing a detached house package from one of the providers – something my brother is doing right now. My dream home was in one of the early 20th century stone town apartment blocks with their high ceilings and Jugend/Art Nouveau features.
Your average new development
In recent weeks I have seen a series of detached or semi-detached houses with a living room and a dining area behind in front of the patio windows. You could not have patio windows in the northern climates where you could only have a proper large window and a door next to it with proper insulation. Then it is upstairs to the three bedrooms and the pokeyish family bathroom. Some of the boxrooms are decent but some have the stairwell eating into the room with all kinds of shelf and cupboard solutions built on top of them. The standard living space seems often small and these houses suddenly have made the Victorian pokiness seem less so.
The newer the estate the smaller the gardens. Some of the plots are ridiculously small, when you consider these houses were meant to be family homes from the beginning. The fences have to be relatively low in order to allow sun properly onto the small plots, so you will get to know your neighbours in these locations. In some estates there is a huge front garden, mostly taken up nowadays by car bays. In one front garden there were two white vans and a normal car. In these cases the front space is in good use, but sometimes you wonder, if a larger proper garden or a larger house could have been a better solution.
Then there are the garages. They are not used as garages anymore but feature freezers, washing machines and extra dressers and cupboards together with all kinds of clutter. The modern houses are clearly too small, when the things we really need do not fit in into their small kitchens. Some of the dining areas can hardly fit a table for six and can feel claustrophobic, if the large patio doors lead to a very small garden. All the light but no space.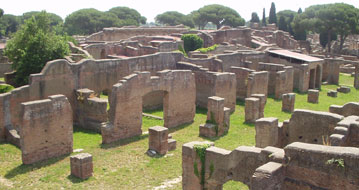 This economic use of space is nothing new. Already the Romans were building type houses and blocks and flats with repeated floor plans. The ancient Ostia has plenty of these buildings that can be explored by modern visitors. These rooms seem to have been relatively dark, although this is sometimes difficult to clarify due to the partial preservation of the remains. The large villas and town houses were lavish and spacious, but the flats could be very pokey. Money talks – and did talk.